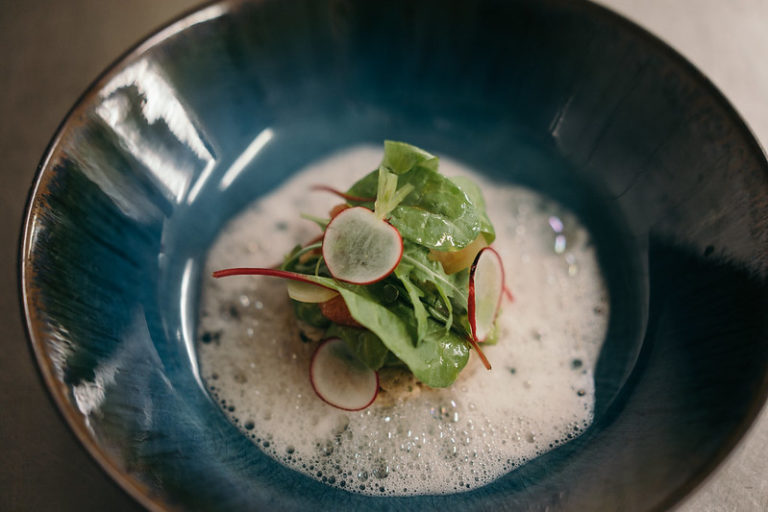 The menu
Well hidden beyond postcards, beyond the backdrop of Heidi's adventures, far from safes, there is a country called Switzerland. A real place, where real people live. And this country has an incredible diversity of ideas, cultures and regions. At the restaurant Everness, this is Switzerland that we want you to discover. A different Swiss, gourmet, local and seasonal. A Switzerland far from clichés and always, always surprising.
EVERNESS Menu
Create your menu with the dishes marked by an M
First course & main dish ou main dish & dessert
First course
V : vegetarian L : lactose free G : gluten free
(M) Everness Mixed salad (V/L/G)
(M) Seasonal vegetable soup from the Courtois farm in Chavannes-des-bois, double Gruyère cream, chestnut chips(G)
(M) Appenzell beef tartar cut with knife, toast (L)
(M) Malakoff from la Côte, mixed salad and crisp vegetables (1 piece)
Malakoffs from la Côte, mixed salad and crisp vegetables (2 pieces)
Duck foie gras Torchon with a pear chutney from the Kilchherr orchard (G)
Smoked salmon cannelloni stuffed with crayfish, citrus emulsion, grated lime (G)
Snacked scallops, creamy Jerusalem artichoke and Tonka bean foam (G)
Fine oysters from Marennes d'Oléron n°3, seaweed butter and fleur de sel, rye bread : 1 piece
Main dishes
Everness beef burger (beef from our alpine pastures, salad, onions, tomatoes, barbecue sauce, Swiss raclette cheese), fries*
Burger Rossini style with escalope of foie gras style
Burger vegetarian with quinoa steak style (V)
Parisienne of beef, café de Paris butter, french fries*, seasonal vegetables (G)#
#Possibility having this dish with an extra charge to the price menu
(M) Papet vaudois, local dish (cabbage sausage, stewed leek, and potatoes) (G)
Beef chateaubriand, black truffle juice, pommes "Pont Neuf" and braised salsify (G)
(M) Appenzell beef tartar with knife, fries* (L/G)
(M)Moelleux of poultry stuffed with chestnuts, morel cream sauce, mashed potatoes
(M) Medallions of monkfish with morels, saffron rice and seasonal vegetables (L/G)
Grilled and shelled Breton lobster with citrus butter, saffron rice (G)
Fillets of perch meunière, lemon butter emulsion, fries* and salad (G)
Fish & chips, sauce tartare, french fries*
(M) Fresh pasta with scallops and white truffle cream
Creamy Jerusalem artichoke, crunchy vegetables and pickles (V)
Parsleyed mushroom casserole with soya milk foam (V)
Quinoa steak, mashed potatoes with herbs, seasonal vegetables (L/G/V)
Fresh tagliatelle with homemade tomato sauce
Pasta made by Granaio Molisano in Bojano Italy (V/L)
All our meat comes from the Terraillon butcher shop
Meat Origin: Beef : Suisse - Poultry: France - Duck (liver) France
Fish Origin Perche : Islande, Russie, Estonie - Monkfish : France - Lobster : France - Scallops USA, Canada
"The asterisk * means that the dish does not meet the requirements of the" Homemade "label
Cheese & desserts
(M) Selection of mature cheeses from our mountain pastures (G)
(M) Tarocco orange salad, honey from the canton of Vaud with orange blossom (V/ L/G)
(M)Cheesecake with passion fruit coulis
(M) Pear tart (original pears from the domaine the Kilchherr in Founex)
(M) Tiramisu with pear and speculas biscuit
Café gourmand with 5 sweets
Ice cream & sorbets
Dänemark scoop (vanilla ice cream, warm chocolate and whipped cream)
Scoop of Ice cream or sorbet (vanilla, chocolate, caramel, coffee, rum-raisin, pistachio, coconut, strawberry, raspberry, lemon, apricot, pear, apple, passion fruit) (G)
Sorbet with alcohol (2 scoops & 2cl) (colonel, valaisan, williamine, rhum grape, lie de Lavaux) (G)
Chantilly (extra) Our ice creams and sorbets are made by "le créateur de glaces"
Children
Chicken Tenderloin, French fries*
Junior house burger with Chips
Fillets of perches, french fries*
Fresh tagliatelle with homemade tomato sauce
Fish and chips with French fries*