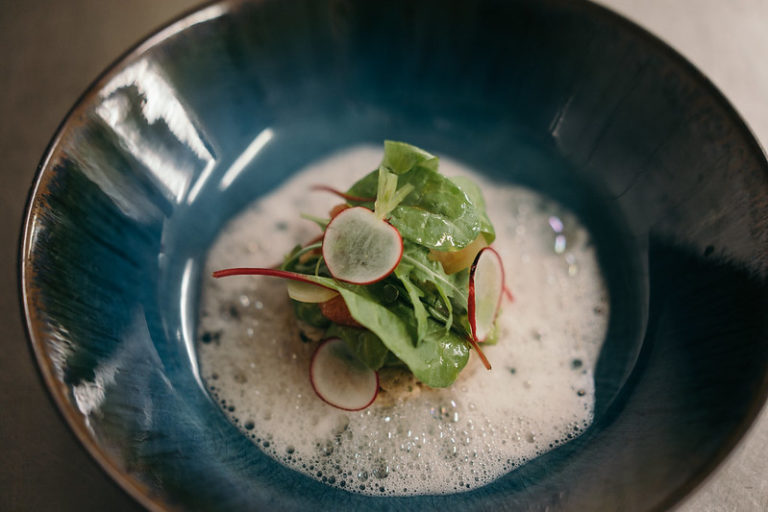 The menu
Well hidden beyond postcards, beyond the backdrop of Heidi's adventures, far from safes, there is a country called Switzerland. A real place, where real people live. And this country has an incredible diversity of ideas, cultures and regions. At the restaurant Everness, this is Switzerland that we want you to discover. A different Swiss, gourmet, local and seasonal. A Switzerland far from clichés and always, always surprising.
EVERNESS Menu
Create your menu with the dishes marked by an M
First course & main dish ou main dish & dessert
First course
V : vegetarian L : lactose free G : gluten free
(M) Old-fashioned vegetable veloute, crispy with old Gruyère cheese (V/L/G)
(M) Poached egg, salad with crispy vegetables and walnut oil vinaigrette (G/L)
(M) Everness beef tartar (G/L)
(M) Warm cod flakes, mesclun and sauce vierge with old-fashioned vegetables (G/L)
(M) Tuna carpaccio, olive oil, passion fruit, galanga, saladine G/L)
Main dishes
Everness beef burger (beef from our alpine pastures, salad, onions, tomatoes, barbecue sauce, Swiss raclette cheese), fries
Burger vegetarian with soja steak* style (V)
(M) Everness beef tartar with knife, fries (L/G)
(M) Swiss IP poultry ham, fine stuffing with black truffle, juice and creamy risotto (G)
(M) Lamb medaillon, oriental juice, sweet potato purée and Pak Choï (G)
Swiss beef fillet with Maitre d'hôtel butter, with French fries and local vegetables (G)
(M) Salmon steak from the canton of Grisons with vegetablesl and mashed potatoes (G)
(M) Cod Skrei cooked» a la Plancha »(griddle), virgin sauce with Meyer lemon, rice and vegetables (G/L)
(M) Duo of scallops and pan-fried prawns, green curry sauce, coconut, lemongrass and Basmati rice G
Fish & chips, sauce tartare, french fries
Penne with Neapolitan sauce (L)
Risotto carnoli with rosemary and Meyer lemon (G/L)
All our meat comes from the Terraillon butcher shop
Meat Origin: Beef, Veal, : Switzerland - Poultry : IP Swiss from Fournier's house at Perly
Fish Origin Cod : Northern Europe ; Salmon Switzerland (grisons)
"The asterisk * means that the dish does not meet the requirements of the" Homemade "label
Vegetarian & vegan corner
(M) Salad with crispy vegetables (V/G/L)
(M) Soy steak*, French fries and local vegetables (V/G/L)
(M) Carnoli risotto with rosemary and Meyer lemon (G/V)
Cheese & desserts
(M) Selection of mature cheeses from our mountain pastures (G)
(M) Pear tart of the Kilchherr House with almond cream
(M) Homemade Vanilla cream with eggs and caramel (G)
(M) Tarocco orange Salad (V/G/L)
Pancake with salted butter caramel and Grand Marnier
Ice cream & sorbets
(M) Dänemark scoop (vanilla ice cream, warm chocolate and whipped cream)
Scoop of Ice cream or sorbet (vanilla, chocolate, caramel, coffee, rum-raisin, pistachio, coconut, strawberry, raspberry, lemon, apricot, pear, apple, passion fruit) (G)
Sorbet with alcohol (2 scoops & 2cl) (colonel, valaisan, williamine, rhum grape, lie de Lavaux) (G)
Chantilly (extra) Our ice creams and sorbets are made by "le créateur de glaces"
Children
Chicken Tenderloin, French fries
Junior house burger with Chips
Penne with homemade tomato sauce
Fish and chips with French fries