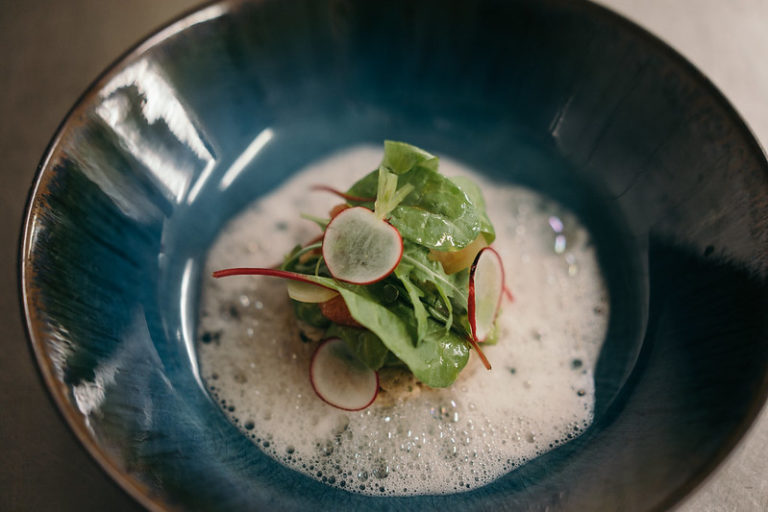 The menu
Well hidden beyond postcards, beyond the backdrop of Heidi's adventures, far from safes, there is a country called Switzerland. A real place, where real people live. And this country has an incredible diversity of ideas, cultures and regions. At the restaurant Everness, this is Switzerland that we want you to discover. A different Swiss, gourmet, local and seasonal. A Switzerland far from clichés and always, always surprising.
EVERNESS Menu
Create your menu with the dishes marked by an M
First course & main dish ou main dish & dessert
First course
V : vegetarian L : lactose free G : gluten free
(M) Seasonal salad and crunchy vegetables (V/L/G)
(M) Cucumber and rocket gazpacho with horseradish foam (G)
(M) Appenzell beef tartar cut with knife, toast (L)
(M) Roasted aubergine with miso, saffron cream, pomegranate salad and pickles (V/G/L)
Duo of fera (raw and smoked) with lemon juice and chives, vegetable chips (L)
Asia tuna tataki, sesame chop suey, wakame and ponzu salad (L)
Mangrove shrimp with grapefruit and avocado in a cocktail salad style
(M) Country terrine, salad and sweet onion confit
Main dishes
Everness beef burger (beef from our alpine pastures, salad, onions, tomatoes, barbecue sauce, Swiss raclette cheese), fries*
Burger vegetarian with quinoa steak style (V)
Pan-fried entrecote, wine sauce, French fries*, seasonal vegetables (L/G)
(M) Appenzell beef tartar with knife, fries* (L/G)
(M) Veal cutlet, chimichurri, polenta fries, green salad (G/L)
Lamb cooked in a temperature base with olive juice and dried tomatoes, seasonal vegetables and purée (G)
(M) Pork ribs Everness style with barbecue sauce, chips and salad (G)
(M) Perly Fournier's poultry, cooked in a casserole, mashed potatoes, fried asparagus and morels (L/G)
(M) Cod "à la plancha", "sauce vierge", mashed potatoes with herbs, spring vegetables (G/L)
(M) Fillet of sea bass, olive oil with thyme, carrot, peas and smoked onions (G)
Lake Geneva perch fillets from our fisherman in Rolle meunière style, fried potatoes* and spring vegetables (G)
Fish & chips, sauce tartare, french fries*
Fresh tagliatelle with homemade tomato sauce (L)
Fresh tagliatelle primavera with wild garlic pesto (L)
Carnaroli risotto with green asparagus and grated Sbrinz cheese (V/G)
Carnaroli risotto with lemon zest and thyme sprig (V/G)
Oriental poke bowl (quinoa tabbouleh, red onion, carrots with cumin, miso aubergine, chickpeas, tahina sauce) (V/G/L)
Marinated and pan-fried tofu steak, vegetable croque, basmati rice with lemon (V/G/L)
Pasta made by Granaio Molisano in Bojano Italy (V/L)
All our meat comes from the Terraillon butcher shop
Meat Origin: Beef, Veal, Poultry : Switzerland
Fish Origin Perche : Geneva Lake ; Cod : Europa ; Sea bass : Atlantic Erupopa ; Tuna: Philipines ; Shrimp : Indian ocean
"The asterisk * means that the dish does not meet the requirements of the" Homemade "label
Cheese & desserts
(M) Selection of mature cheeses from our mountain pastures (G)
(M) Millefeuille, light pistachio and strawberry cream
(M) Gourmet pavlova with red fruits and raspberry sorbet (G)
(M) Chocolate brownie with caramelised pecan nuts
(M) Strawberry soup with mint (V/G)
(M) Mango passion fruit dessert with exotic coulis
Café gourmand with 5 sweets
Ice cream & sorbets
Dänemark scoop (vanilla ice cream, warm chocolate and whipped cream)
Scoop of Ice cream or sorbet (vanilla, chocolate, caramel, coffee, rum-raisin, pistachio, coconut, strawberry, raspberry, lemon, apricot, pear, apple, passion fruit) (G)
Sorbet with alcohol (2 scoops & 2cl) (colonel, valaisan, williamine, rhum grape, lie de Lavaux) (G)
Chantilly (extra) Our ice creams and sorbets are made by "le créateur de glaces"
Children
Chicken Tenderloin, French fries*
Junior house burger with Chips
Fillets of perches, french fries*
Fresh tagliatelle with homemade tomato sauce
Fish and chips with French fries*